Objectware puts people at the heart of its development. We are successful because we look after our employees.
We are able to build a working environment where it's good to work in the long-term, balancing economic performance against social harmony. Objectware offers a modern vision of consultancy through its managerial charter of values, known internally as "Objectware 3.0", with this idea at its core: employees first, clients second.
Today, Objectware's employer brand and good practices are appreciated by our employees, who took part in the vote for our GREAT PLACE TO WORK certification.
What if work was no longer laborious? What if your professional life could be as enriching as your personal life? This is the whole philosophy of the Great Place to Work label. Every year, this international programme, rolled out in 60 countries, rewards companies that are great places to work.
A different style of management, setting out clear rules, is what has driven us to join the European rankings of a GREAT PLACE TO WORK.
There's more to life than just work. We run regular out-of-hours events that bring together all the group's employees to bolster team spirit and to create a sense of general belonging within the company. This is absolutely crucial to us.
After-work drinks, for example, are an excellent way of getting to know one another off the clock, and building a solid sense of team spirit. We run company weekends too: we don't need an excuse!
Companies should be hubs of energy, imagination, innovation, camaraderie, fun and personal development, and that's what we aim for at Objectware.
Our projects are amazing
Consultants are given complex, long-term projects that can often span years. All of them are fascinating, highly motivating projects that create a real sense of challenge. Our clients want talented consultants who push their boundaries, and that's something of a specialty of ours. Joining Objectware means joining a company with incredibly high standards and working in a stimulating environment where excellence goes hand in hand with having fun.
Together we build your career
Our management team is made up of seasoned experts and teams who know how to keep the projects coming in, while ensuring the cohesiveness that is so essential to helping you moving forward.
Our managers also know how to use training, whether technical or operational, to keep the momentum going (project management processes, certification, etc.).  At Objectware, all training requests are considered, as long as they are part of a wider process (over 95% of training applications are approved within 15 days)
A different approach to management
At Objectware, management in the broadest sense of the term applies to more than just our management board and BU leaders, and encompasses all of the company's departments (back office, HR, etc.).
Our vision of management is based on a few key principles:
Objectware is a horizontal company: clear, straightforward hierarchy, that's easy to understand, and anything but an organisational pyramid structure.
The One-Minute Management concept: pro-active management that ensures all employee requests are handled within 48 hours.
Project downtime periods at Objectware are put to good use: these periods are ideal for giving consultants the opportunity to get involved in the group's development and contribute to fostering company culture.
Freedom doesn't come at a cost: the group has offices in several regions, which means we're well-equipped to meet consultants' mobility needs and offer them flexibility in their career and lifestyle choices.
Measuring moods: every month, we use a quick and easy way of measuring our employees' state of mind and moods, without ever setting management targets. This means one-minute management methods can be used to take immediate action in boosting employees' moods.
"Objectware understands that both client satisfaction and consultant motivation rely upon a great working environment and a deep sense of belonging."
"Since I arrived at Objectware four years ago, I've been offered some wonderful opportunities. Over the years, I've been able to consolidate my knowledge and above all acquire new knowledge, developing a technical-functional profile. It's a dynamic company with a focus on people, where I know I will be able to develop my skills and my network."
An idea, a project, and noticing when something isn't working or could be improved to benefit the entire Objectware community: we encourage all teams to take the initiative and get things off the ground.
Our consultants are our best client ambassadors, and we encourage employees with a knack for sales to spread their wings thanks to our BOOSTER scheme.  Booster is a highly motivating pay package with clear, easy-to-understand conditions that allows all consultants to take on an entrepreneurial role in dealing with their clients.
Because our managers and sales teams can't be everywhere at once, our philosophy is 'see it, do it'. At Objectware, responsibility is something you take, not something you're given.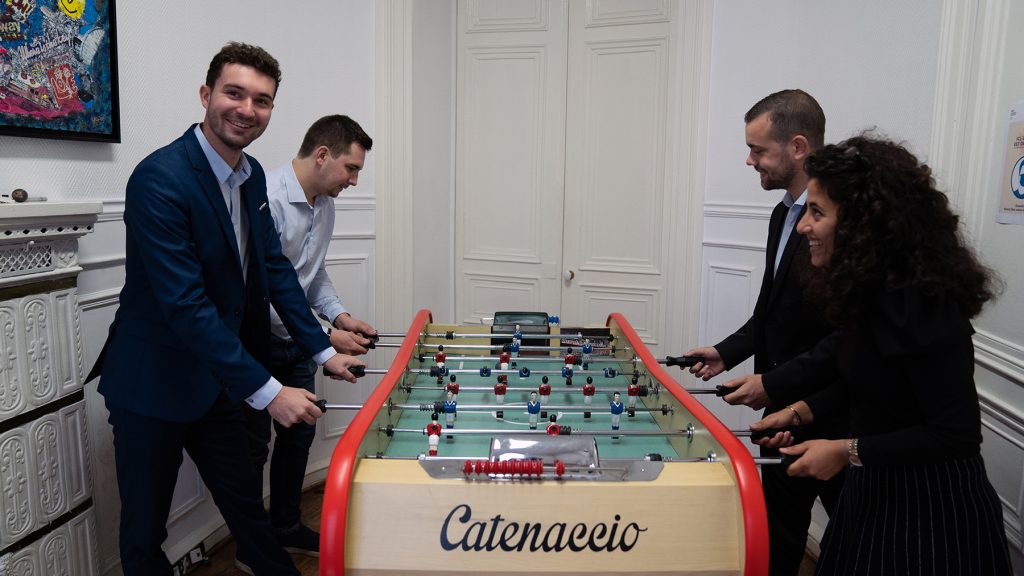 Community spirit is central at Objectware. Objectware is the tool we work with, rather than a source of personal benefit (shareholders, etc.). That means our profit needs to work to everyone's advantage, and the company ploughs massive investment into developing programmes aimed at boosting employee well-being: after-work drinks, evening and weekend events, trips, sports, training, works committee benefits, profit-sharing, Christmas tree schemes, housing grants, sponsorship, and even a concierge service…
The group has rolled out its very own social network, Workplace, to bring the community to life and help it grow. Workplace is an opportunity for all employees to take part in life within the company.